We offer consultations via phone and Zoom. Please don't hesitate to call us if you have any questions!
Harassment and Discrimination Attorneys

Honesty. Experience. Results.
Employment Law Attorneys in Charleston, WV
Committed to Providing Meaningful Outcomes for Victims of Harassment and Discrimination Throughout West Virginia
When you are the victim of harassment, discrimination, or retaliation in your workplace, you need an experienced and aggressive law firm to fight for you! At Addair Entsminger PLLC in Charleston, West Virginia, our experienced and knowledgeable attorneys have the skill necessary to help clients navigate some of the most complex and difficult legal matters they will ever face in their lifetime. When you choose to work with us, you can feel confident in the outcome of your case and its impact on your future. Do not hesitate to retain the counsel you need to stand up for your rights in the workplace serving Kanawha, Putnam, and Cabell Counties and the entire State of West Virginia.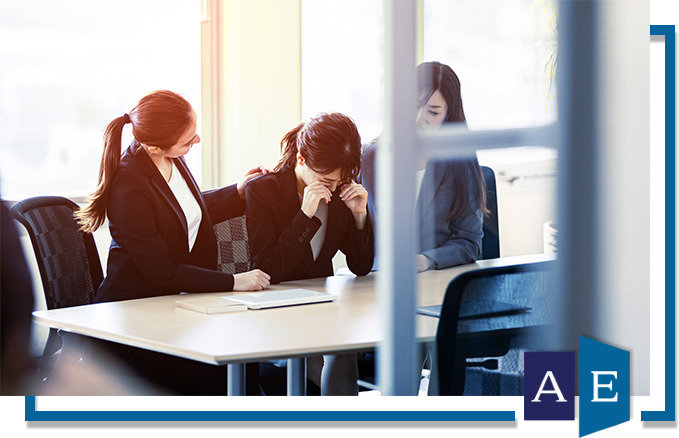 Meet Mike Addair and Kurt Entsminger
Experienced Lawyers Fighting for West Virginia Workers
Our employment law attorneys are backed by a combined nearly six decades of litigation experience. Both Kurt and Mike spent many years working at large law firms defending big corporations, but have dedicated the past several years of their careers fighting for working West Virginians who have suffered harassment, discrimination, or retaliation in their workplace. They are known for being detail-oriented, aggressive, and tenacious. Call our firm today, so they can fight on your behalf.
Committed to Personalized Service & Results

Guiding Clients Through Some of the Most Complex Cases
Committed to Providing Exceptional Representation
The legal team at Addair Entsminger PLLC is not afraid of going up against large employers or big insurance companies because we know their playbook inside and out. We have successfully recovered millions for working West Virginians in a variety of employment law cases, including cases involving sexual harassment, race discrimination, age discrimination, disability discrimination, healthcare worker retaliation, whistleblower retaliation, and more.
If you have been wrongfully fired from your job or if you are being harassed or discriminated against at work, call us today at (304) 881-0411 to schedule your free consultation. Our dedicated attorneys will work diligently on your behalf to secure the best possible results for your situation. Moreover, if we take your case, you will not pay us a single cent unless we win!
In addition to harassment, discrimination, and retaliation cases, our attorneys also possess a wealth of experience litigating personal injury cases. Our attorneys have represented clients in a wide range of personal injury matters, including car crashes, products liability cases, chemical exposure cases, asbestos exposure cases, workplace injuries, construction accidents, mining accidents, and more. Our firm brings the same detail-oriented, aggressive, and tenacious litigation approach to every personal injury case that we do to our harassment, discrimination, and retaliation cases.
Do not hesitate to secure the skilled legal counsel you need. Get started on your case by reaching out to our law firm today. We are prepared to provide you with the advice you need to be fairly compensated, whether you have been injured by the negligence of another or you have been wrongfully fired, harassed, discriminated, or retaliated against.
Our Difference Is In Our Approach

Honesty You Deserve.
Results You Want.
Experience You Can trust.
You Need a Personalized Plan
Our experienced Charleston, WV attorneys understand that no two harassment, discrimination, or personal injury cases are alike, that every client's situation is unique, and, as such, requires personalized attention. The legal strategies that may work for one client may not work for you. Our Charleston, WV attorneys are committed to providing the personalized attention and tailored solutions you need to achieve the best possible results. You can trust that you will always fully understand your rights and options, so you can make the best choices for your future.